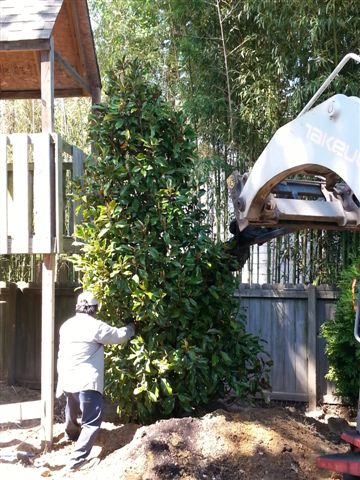 An excellent way to attract new customers into your commercial business or increase the curb-appeal of your property is to have a beautiful and lush green lawn, accompanied with stimulating plants and perfectly maintained shrubs and trees. Research has indicated that a professionally designed and maintained landscape will increase the chances that a customer will patronize your business. Koster Landscape Management, Inc., North Carolina can assist you in a attaining a beautiful landscape for your commercial business or facility and furthermore help you cut back on the additional expenditures associated with property management. Whether your established property needs a makeover, or you are in the market for a completely new landscape installed from scratch, you can count on our experienced North Carolina commercial landscaping professionals to help you design and construct a flourishing landscape and great layout.
Koster Landscape Management, Inc.'s design and maintenance plans will help to increase the value of your property. We can tailor the design and layout to your specific tastes and lifestyle. A beautiful landscape will not only attract new customers to your business, but it can also improve the overall attitude of your employees and lead to greater productivity. If you are a property owner that is interested in improving your site we believe a well maintained landscape with vibrant color displays a great since of pride.
Koster Landscape Management, Inc. employs a team of experienced landscape professionals and utilizes top-quality equipment, which allows us to handle any size commercial landscaping project. Whether you are in need of tree installation or removal, complete lawn care, new lawn installations and plantings, spring and fall cleanups, retaining wall installations, mulching, patios and walkways, and any other kind of landscape specialty work, we can fully assist you.
Our landscaping services will allow you to give a great and everlasting first impression of your business to your current and prospective customers. We fully understand the importance of first impressions, which is why our Wilson, North Carolina commercial landscape design and maintenance services will go above and beyond our competitors services. Our vast knowledge of horticulture and local seasonal climates allow us to keep our client's landscapes looking great all year. You can contact us today at 252-399-7663 today for more information and a free on-site consultation!
Koster Landscape Management, Inc. offers complete Commercial Landscape Installation, Landscape Design and Grounds Maintenance, Drainage System Installation, Sod installation, and much more to the following towns and surrounding areas in North Carolina: Raleigh, Wilson, Rocky Mount, Greenville. Contact us today for a FREE Consultation!